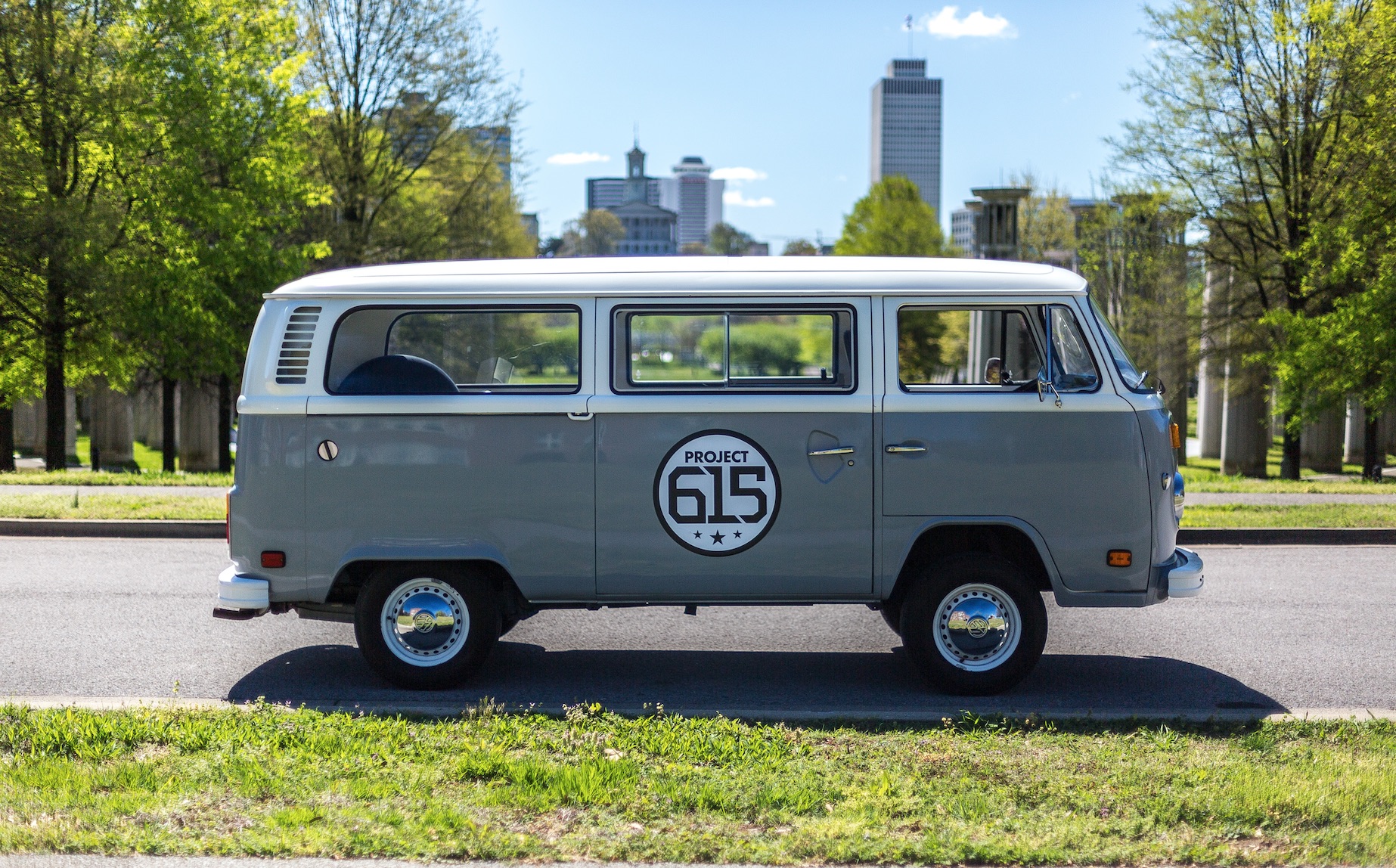 Project 615 Presents: The 615 Bus Sessions, celebrating the spirit of Music City from our 1978 Volkswagen Bus, affectionately named "Dolly." We're inviting local artists and bands to hop in our bus with nothing but their instruments and the truth (and a Project 615 tee) to perform original music as we roll through the streets of Nashville, hoping to shine a light on the incredible talent that grows within this city that we love. Ride along with us and check out a brand new episode every other Monday.
RIDE ALONG WITH US & CHECK OUT A NEW EPISODE EVERY OTHER MONDAY
episode 1: the young fables, "completely"
The Young Fables are the promising country duo comprised of American Idol vet Laurel Wright and accomplished guitarist and vocalist Wesley Lunsford. The act hails from Maryville, TN and the duo has already collected impressive accolades including the Grand Prize of the Texaco Country Showdown and winning the Nashville finals of NASH FM's countrywide NASH NEXT competition. Check out their original song, "Completely" off their debut album, Two.
Episode 3: luthi, "every body"
LUTHI have found themselves, their sound, and their sense of belonging with their newest single, "Every Body," played here in our 1978 VW Bus. Playing hard on a host of influences, from Curtis Mayfield to LCD Soundsystem, the band weaves its way through layers of sound and space while never compromising danceability, a feel that encompasses the whole of their latest EP, Home Again. Featuring: Christian Luthi (vocals), Taylor Ivey (banjo), Johnny Williamson (guitar) and Robert Gay (trumpet).
episode 5: paul mcdonald, "call on me"
After a divorce and the break-up of his former band, Paul McDonald left his life in LA in search of familiarity and solace. The Alabama-born artist found himself in East Nashville, feeling like a stranger in a region he once called home. That all changed when he picked up his guitar and began the process of what would become "Modern Hearts," his debut LP. Check out his performance of "Call on Me," the latest single off his upcoming record, with undeniable groove and an irresistible soul-pop hook.
Episode 7: The daybreaks, "hypnotized"
Recently formed "indie supergroup," The Daybreaks, comprised of local artists, songwriters and producers Heather Bond, Kaleb Jones, Bobby Holland, Adam Bokesch and Zac Stred, bring you their powerful and enticing single "Hypnotized," from their stand-out debut record "Find Me At The End of the World," available now everywhere. Holland's varied sensibility of sound, plus Bond's piano prowess, paired with Jones' bold guitar playing, is welcoming and uncharted territory.
episode 9: roots of a rebellion, "peace & Love"
Voted one of Music City's best local bands by readers of the Nashville Scene, Roots of a Rebellion "bolster Reggae-Rock-Dub music for the soul." Their inspired performance of "Peace & Love," a favorite from the group's latest album, A Brother's Instinct, highlights the original music they create and its consistent uplifting message for listeners.
Episode 11: lillie mae, "To go wrong"
Lillie Mae has been singing and playing on stages across the country since she could stand on her own two feet, picking up the microphone at age three and the fiddle at seven. Forever and Then Some, her much anticipated Third Man Records debut produced by multi- GRAMMY® Award-winner Jack White III, weaves her own experiences with the myriad strains of Americana to affirm her as a bright new star that's been here all along. Check out her exclusive performance of "To Go Wrong," from our 1978 VW Bus.
Episode 13: Drake white, "The Coast Is Clear (run with the bulls)"
Drake White and The Big Fire, "The Coast Is Clear (Run With The Bulls)." Alabama native and Big Machine Label Group artist Drake White joined us in our classic VW to perform an original fan-favorite, dedicated to chasing your dreams, and not letting life "pass you by." Described by Billboard as a confident, energetic presence with a mix of gravel, soul and gospel in his voice," Drake's inspired rendition of "The Coast Is Clear" gives a metaphorical green-light to ignite the spark in our own lives.
Episode 15: creature comfort, "arcade fire"
Creature Comfort is a Nashville-based four-piece that offer a refreshing and alternative take on traditional indie rock. The band thrives in the delicate spaces between experimental and approachable, penning highly-versatile pop tunes that dabble in everything from psych to surf to folk to country. Check out their in-bus performance of their new dynamic, multi-instrumental track "Arcade Fire."
Episode 17: Native run, "Make it real"
Virginia's own Native Run began one fateful day when Rachel Beauregard and Bryan Dawley first joined forces at the behest of mutual friends. Within hours of practice, "magic started exploding everywhere", and their groovy, soul-bearing country music quickly began to be recognized on a national level by the likes of the Austin City Limits Music Festival and beyond. Check out their in-bus performance of their original Christmas tune, "Make It Real," and be sure to check out their latest single "Sleeping In the Bed I Made" now!
Episode 19: Jordan davis, "Singles you UP"
Named to Pandora's 2018 Artists to Watch and CMT's Listen Up Artists of the year, newcomer Jordan Davis dresses "his solid country foundation with a blend of pop, modern R&B and hip-hop," adding his sound to the fun, contemporary sound dominating radio waves. Don't miss the in-bus performance of his original song, "Singles You Up," and catch him on the road with Jillian Jacqueline this year on the "White Wine and Whiskey Tour;" official dates at jordandavisofficial.com.
Episode 21: Republican hair, "Whatever blows your hair back"
Nashville hit-maker Luke Dick's indie moniker and brain-child, Republican Hair, features a new-wave-ish party vibe, drawing inspiration from the sounds of the 1980s — in particular from Prince. Don't miss Dick's psychedelic falsetto in "Whatever Blows Your Hair Back, an original track from their latest EP, The Prince & the Duke, available now at republicanhair.org.
Episode 23: future thieves, "Dark Spin"
uture Thieves was formed in late 2013 after a timely split between former bands and began writing, recording, and touring the United States in 2014. The band quickly formed a distinct sound, blending alternative pop vocal melodies with driving guitars and intricate rhythms. Their song "Horizon Line" landed at #26 on Spotify's US Viral 50 chart. Check out a clip from the in-bus performance of "Dark Spin".
Episode 25: Adam wakefield, "Good morning sunday"
Adam Wakefield is a singer-songwriter who has secured his place in Nashville, TN, but is far from the typical artist one may expect to find in the Country Music Capital of the World. He's all country, all soul, with all the gospel of rock + roll. He released his debut self-titled EP in July 2017, which he describes as a "little left of center" due to the different musical styles he embraced in its creation. What certainly can be said about Adam Wakefield when it comes to the music industry is that he approached it uniquely, he entered it humbly, and he thrives in it confidently. It is those qualities that make Adam a standout. His music can be found on Spotify + iTunes but in the meantime check out an in bus performance of "Good Morning Sunday".
Episode 28: towne, "Let me let you go"
Diverse backgrounds in life and music could have taken Towne's Steevie Steeves and Jon Decious in two very different directions. Instead, their love of songwriting allowed for their paths to cross. "Jon was a breath of fresh air. We were two peas in a pod. We're really fortunate to have developed the friendship we have. We definitely have each other's backs," says Steeves. Their stylistic collision has resulted in Towne's unconventional sound - demonstrated in the duo's upcoming releases. "His punk country mixed with my pop soulness is a very interesting dynamic, and it is what it is. It's definitely different."
Episode 30: Drake White, "Girl in Pieces"
The tropical vibe is inspired by Drake's love for Bob Marley's music, but the song's message hits a bit closer to Drake's Alabama hometown. Drake and his wife, Alex, first started dating after she'd been through a bad romance. He stepped in and was there to help mend her broken heart.
Episode 32: Forest Fire Gospel Choir, "Oh Eleanor"
Forest Fire Gospel Choir is a five-piece American rock band based in Nashville, Tennessee. The band met at Belmont University in Nashville where they began to blend soulful harmonies with gritty instrumentals. Bassist Will McGee reaches deep into his Memphis roots to deliver vocals and bass grooves that are reminiscent of the late 1960s. East Coast and West Coast meet in the South as guitarists Nick Fields and Sam Hunt trade solos for riffs while Daniel Closser brings an indie rock flavor to the drums. Will Lynde, keyboardist and vocal arranging guru, collaborates with McGee to co-write much of their catalog. Forest Fire Gospel Choir's first EP (2015) fused southern rock with soulful pop that draws influence from the likes of The Allman Brothers Band, Kings of Leon, My Morning Jacket, Joe Cocker, and Alabama Shakes. Dynamic grooves, hard guitars, and lush group vocals bring the heart of their songs to new levels. Check out Forest Fire Gospel Choir soulful performance "Oh Eleanor" as we roll through the streets of Nashville in our 1978 VS Bus, "Dolly".
Episode 34: Jason morton and the chesapeake sons, "Matacumbe"
Jason Morton and The Chesapeake Sons owe their geographical roots to the Atlantic seaboard, but its sonic heritage connects the band firmly to The Black Crowes, the Allman Brothers Band, Lynyrd Skynyrd, and the Marshall Tucker Band. With Jason Morton and The Chesapeake Sons, a 10-track collection on indie Copperline Music Group, the multi-piece ensemble blends effusive melodies, fierce musicianship, convicted vocals, and smart lyrics in a diverse song stew that dips – in Southern-rock fashion – into rock, blues, country, gospel, and even psychedelia. Jason Morton and The Chesapeake Sons are a talented bunch, but they're also a working-class group, determined to keep a firm hold on the everyday-American spirit at the heart of their music. Check out this version of "Matacumbe" in our 78 Volkswagen Bus as we roll through the streets of Nashville. #Project615 presents the #615BusSessions, celebrating the spirit of Music City from our 1978 Volkswagen Bus, "Dolly." Ride along with us and check out a brand new episode every other Monday. #615BusSessions
episode 2: jordan depaul, "sleepwalker"
Originally from Youngstown, Ohio, Jordan DePaul is a folk/pop act based out of Nashville, TN. With his main focus being on the lyric, his unique mix of folk melodies over a pop delivery will make your heart pound; for more than one reason. DePaul is playing local favorite Exit/In in Nashville on Thursday June 1, kicking off his "Is This Everything or Nothing At All" tour. Check out the first single off his forthcoming record, "Sleepwalker," expected mid July.
episode 4: drake white, "makin' me look good again"
Every reaction begins with a catalyst, some initial event that sets things on their inexorable course. For CBS Artist of Tomorrow, Drake White, it goes back to something raw and elemental in his debut album "Spark"... The project covers an entire spectrum of emotions beyond statements of character and self-definition. In "Making Me Look Good Again," White cruises on an R&B-style groove to express his gratitude for his better half.
episode 6: ron pope, "work"
This Nashville-based independent artist and one of Rolling Stone Country's "Artists You Need to Know" has consistently plotted his own course, and has evolved into one of the top-grossing independent acts in the business. "Work," the title track from his forthcoming record, recounts a painful moment from Ron's past when a teacher told his mother that he'd probably end up in prison. After that, he started "messing around writing songs...and it's been mostly uphill ever since." Ron's record is available for pre-order online now, and will be released everywhere August 18.
Episode 8: shelly fairchild, "damn good lover"
A staple in the Nashville music community, Shelly Fairchild hit the scene to much acclaim with her soulful, gospel-tinged brand of alt-country that allowed her to tour with some of the biggest names in the format, including Rascal Flatts, Keith Urban and Tim McGraw. Check out her inspired, blues-ridden performance of "Damn Good Lover," a standout single from her latest, and "most honest" record Buffalo.
episode 10: nobigdyl., "tree tops"
nobigdyl. is a Nashville-based independent hip-hop artist. He hopped in our bus to perform his hit single "Tree Tops," one of many standout favorites featured on his first full-length album, Canopy, which climbed to #7 on iTunes Hip-Hop Charts. As the founding member of indie tribe., a collective of artists independent of mainstream ideals, nobigdyl. seeks to light up darkness through his music.
episode 12: sawyer, "next time"
Sawyer is a Nashville-based duo comprised of Kel Taylor and Emma Harvey whose sound can be described in no other way than "Indie Sparkle Pop." With comparisons to Lucy Rose and early Bombay Bicycle Club they have built a resonance with music "built on tight vocal harmonies and intricate guitar work." Check out their in-bus performance of "Next Time" from their latest EP, Easy Now, from our 1978 VW Bus, Dolly.
episode 14: walker hayes, "halloween"
Inspired by music from all genres, rising-star and seasoned-songwriter Walker Hayes seamlessly blends elements of pop, rock, rap and country together, creating a fresh sound firmly rooted in his southern perspective. "Halloween" tells a story larger than the holiday: his original, truthful tune is written for his wife, Laney, someone he can be himself around, "mask free." "Halloween" and Walker's top-20 Billboard Country hit, "You Broke Up With Me" are fan-favorites from his upcoming album, boom., hitting shelves everywhere December 8.
episode 16: the accidentals, "earthbound"
Named among Yahoo Music's "Top 10 Bands to Watch in 2017," The Accidentals' adventure began in their hometown of Traverse City, MI, when Katie Larson, a sophomore cellist, and Savannah Buist, a junior violinist, were paired for a high school orchestra event. They recorded three original albums, were guest artists on fifteen others, scored two films, while playing over 700 live shows. THEN they graduated high school. Check out their in-bus performance of "Earthbound," from their latest album, Odyssey.
Episode 18: Drew Holcomb, "New Year"
A road warrior for more than a decade, critically-acclaimed songwriter Drew Holcomb has spent his adulthood on-stage and on the road, traveling from place to place with a catalog of vibrant, honest songs that explore the full range of American roots music. Ring in 2018 with an in-bus performance of his original song, "New Year," available now on his latest album, Souvenir.
episode 20: The Social animals, "cold"
Minnesotan four-piece band, The Social Animals, blend smooth, raspy vocals with memorable melodies, splattered across a canvas of indie rock instrumentation. Opening for bands like Dashboard Confessional and The All-American Rejects and performing on grand stages like Firefly Music Festival and Summerfest, The Social Animals show no signs of slowing down as they head into 2018 with a brand-new single on the airwaves, and a full album in the works. Check out the in-bus performance of their original song, "Cold" from their first EP, "Formative Years."
Episode 22: The weeks, "grind yr teeth"
The Weeks are an indie rock band from Jackson, Mississippi. The band was formed by Cain Barnes, Chaz Lindsay, Cyle Barnes, Damien Bone, and Samuel Williams in March 2006 when they were only 14 years old, it's safe to say they've been killin' the game for awhile. Check out a clip from the in-bus performance of "Grind Yr Teeth", their latest single.
Episode 24: Daniel Ellsworth + The Great lakes, "paralyzed"
Daniel Ellsworth + The Great Lakes is the sound life makes when it becomes pure joy-- it is the noise childhood makes when it surrenders to itself and becomes an ecstatic life. It is somehow simultaneously sweetness, energy, softness, and seduction. A strange alchemy that comes about in a town like Nashville — where they formed in 2010. Their new album, Fashion, is due out fall 2018. In the meantime check out an in bus performance of "Paralyzed"!
Episode 26: Jon McLaughlin, "not in this song"
Jon McLaughlin raised in Indiana and based in Nashville, brings all of his experiences and beliefs into each song he creates, something that is especially true now that he's the father of two young girls. As with everything he does, Jon's goal is to create connections. He wants to translate his experiences and ideas into music that reaches fans everywhere. His passion for music and playing is evident in each note he plays. Jon's music can be found on Spotify + iTunes but in the meantime check out an in bus performance of "Not In This Song".
Episode 29: Ivory Lane, "COmmitted"
Ivory Layne may be young, but her music is that of an old soul. Layne started songwriting at age six but didn't take serious interest until turning fourteen. She taught herself music production, working from her bedroom and posting demos online. In 2011, her work caught the attention of Grammy award-winning producer, Ed Cash. The two wrote, produced, and released her first EP, Volume One, in 2013. Shortly after, Layne moved from her hometown of Denver, NC, to Nashville, TN, to further her artist career where Justin Timberlake, who signed Layne to his artist development company, Villa40, in 2015. She recently joined us for a 615 Bus Session performing her newest single "Committed".
Episode 31: Josie Dunne, "Good Boys"
Josie grew up on Stevie Wonder, Etta James and Ray Charles, the songs blaring through the stereo alongside Britney Spears and Christina Aguilera. Josie learned piano and taught herself guitar, and took singing lessons from her cousin. She knew early on that music was the right career path for her to pursue, and she began flying to Nashville every month during high school for writing sessions with various producers and co-writers. It was through these sessions that Josie began to understand what sorts of songs were right for her. Enjoy this acoustic, in bus performance of "Good Boys"
Episode 33: Dave Barnes, "Big Ole Love"
Although born in South Carolina, singer/songwriter Dave Barnes spent most of his childhood in Mississippi, where he formed an early attachment to hip-hop but was also exposed to classic soul, blues, and R&B by his parents. Barnes moved to Nashville, Tennessee after college, and gravitated toward the city's acoustic folk scene. The desire to make more groove-oriented music convinced him to assemble a full band. Barnes' soulful pop songs won him the support of artists like John Mayer (his labelmate on Aware Records), while the spiritual tone of his lyrics earned some support from the Christian music scene. He remained on Aware's roster for two albums -- 2004's Brother, Bring the Sun and 2006's Chasing Mississippi, both produced by Ed Cash -- before moving to Razor & Tie for 2008's Me and You and the World and 2010's What We Want, What We Get. The latter album became a surprise Christian hit, debuting in the Top Five on the Christian charts thanks in part to the single "God Gave Me You." A year later, Blake Shelton recorded "God Gave Me You" on his Red River Blue album and his version topped the country chart, earning Barnes a Grammy nomination in the process.
#Project615 presents the #615BusSessions, celebrating the spirit of Music City from our 1978 Volkswagen Bus, "Dolly." Ride along with us and check out a brand new episode every other Monday. #615BusSessions